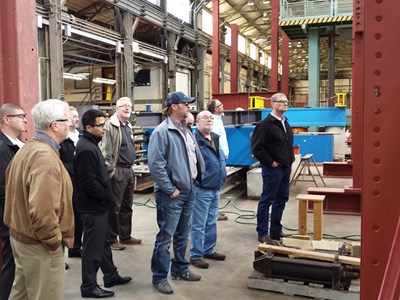 TSSI fosters continual improvement of members' business and personal development through education and idea exchange. Meetings are open dialogue, planned presentations and social interaction. 
Membership Benefits
TSSI quarterly business meetings are an enriching way to bring together steel industry professionals who share an interest in the use of Structural Steel.
TSSI strives to offer reliable and accurate information regarding technical developments, construction and general business conditions in the industry.
TSSI cooperates and supports the American Institute of Steel Construction (AISC), Structural Engineers Association of Texas (SEAoT), and other groups by sponsoring seminars, conferences, speakers and scholarships.
TSSI quarterly business meetings include information on improved methods of design and shop practices.
TSSI quarterly business meetings include reports from AISC, OSHA actions, legal issues, safety, education, environmental, labor, freight and mill/service center reports.
Networking with your peers and roundtable discussions are a valuable sharing of ideas and methods critical to the operation of a fabrication facility.
Each member of TSSI is automatically a member of the Texas Construction Association whose role is to provide legislative advocacy in a unified force to influence and strengthen authority for subcontractors and suppliers in the legislative arena.
Join TSSI
Membership in the Texas Structural Steel Institute is open to any individual, firm or company operating or represented in Texas that fabricates structural and/or miscellaneous steel. Associated membership is open to any company that engages in some field related to the supply of services or materials to structural steel fabricators.
Member companies range in size from the small company to medium and large multi-plant operations.
Annual dues are affordable at $500 for all members.
Click here to download a Membership Form. Please complete and submit by mail to: 202 Banbury Lane, Victoria, TX, 77904 or submit by email to: info@tssi-texas.org.
Texas Structural Steel Institute
Phone: 361-935-7020
info@tssi-texas.org
Not a member? Join TSSI today and be a part of a vast network of steel experts and professionals.